Please help me welcome author Camelia Miron Skiba to FMB, again! :)
Camelia Miron Skiba is author of Hidden Heart and A World Apart.
Holly: Hi again Camelia! Would you mind telling us a little about yourself?


I'm a dreamer
I'm a sinner
I love my books
I conjure hooks
And heroes with good looks


Romance is my guilty pleasure
Taking me to places with new decor
Come join me if you dare
I promise not to bore


If you like to read my stories
Pray my husband continues snorin'
For he's the one who keeps me up at night
When I give my heroes wings and flight.
Holly: From your author bio I know you said that you grew up in Romania before moving to the US over seven years ago. What was this move like for you?
Camelia Miron Skiba:

Before I moved to the U.S. in September of 2003, I lived in Austria, Germany and Hungary. Love took me to Austria, work to Germany and month-long vacations to Hungary. Then I returned to Romania for about five years, before love found me again. This time it brought me here to the States. In looking back, I realize that every single place I've been to, its people, its traditions, culture and language, every memory helped me make the U.S. my final home. There is no other place I'd rather be. Romania is my native country, but my heart and soul belong to the U.S.
Holly: Did your interest in writing begin before or after your move to the US?
Camelia Miron Skiba:

While writing books was a childhood dream, I pursued my dream here in the U.S.
Holly: What is your writing schedule like?
Camelia Miron Skiba:
It depends on how easy words come to me. Sometimes I write from the moment I arrive home from work until I can no longer keep my eyes open. Other times I wake up in the middle of the night with a scene so vivid in my head I have to get up and put it on paper. I have days, maybe weeks when no words come to mind or times when I'm so inspired I can write several chapters at once. Either way, I just go with the flow. Writing is a passion therefore nothing is forced.
Holly: Which comes first for you in a novel, the plot, setting or the characters?
Camelia Miron Skiba:

Definitely characters, first in the shape of… voices. They are as different from one another as water and oil, night and day, life and death. Imagine a dark room with a faint light surrounding a voice that gradually transforms into a body, either a female or a male. I know their general characteristics as hair and eye color, but also their likes and dislikes, their quirks and qualities. They become as humanized as any person standing next to me. They chose their partners and where they want to start and where they want to go. I'm just a vessel, taking their stories to the paper. I look for pictures and once I find the right ones it's that much easier for me to visualize them when they talk, fight, dance, whatever they choose to do.
Holly: Where can we purchase your novels?
Camelia Miron Skiba:

Amazon, Barnes & Nobles, iTunes, Goodreads, Smashwords, pretty much all online retailers.
Holly: Can you tell us a little of your publishing process?
Camelia Miron Skiba:

Since I'm a control freak, choosing the self-publish route was the best venue for me. I don't shop my work around, but rather invested all my energy in writing the best stories I can. I write what I want and how I want. My critique group influences me, but they don't alter the story. I'm in complete control over book size, format, cover, price, where it's distributed, marketing, everything. I choose how many books a year I want to write, and determine my own publishing dates. To sum it all, I run my own show.
Holly: In our last interview I asked you—If you could live in either Hidden Heart or A World Apart, which would you choose, I am curious, if you could be the main female character of either novel, would you still have the same choice?
Camelia Miron Skiba:

No, that would be different. I'm more like Tessa, the heroine in Hidden Heart. I feel closer to Tessa, because of her past and mine. In many ways—the heartache, the betrayal, the journey to find herself—gave me the closure I needed from my own past.
David shook his head, scrunching his eyebrows. "Have you looked around, Cassandra? Do you have the smallest idea where we are?"
"Yes," she jutted her chin up, her voice a rasp, "in a rat's hole I don't give a damn about. I could care less about the people here, nor want anything to do with them. This is not my war. I said it before, I'll say it again. The only reason I'm here is for Robert, and Robert only." She inhaled deeply, squeezing dreadful tears between her eyelids. "If you don't want to help, that's fine. But don't try to stop me." She turned to walk away, but David caught her wrist. "What—"
"Look around you. I get it you don't care about being here, or about the people, but you have a choice—the choice of staying alive and safe, here on the base. They," he pointed at the beds, "didn't."
Three soldiers occupied the room, one without an arm, another without a leg. The third one had bandages around his head, half of his face disfigured with burns.
Her stomach twisted, a strong taste of bile rising in her throat.
"And what am I supposed to do, David? Just sit around and wait?" She glanced at Laura who, standing in the doorway, waved a nurse not to enter. Grateful that Laura spared her the embarrassment of being heard by others, she turned to David and said, "I have to at least try to find him, I have to." Her eyes burned with tears, her voice choked up. "He is somewhere out there, and must be found, alive..." Her stomach turned to a fire pit, pain forcing her to bend forward.
David grabbed her by the shoulders and for a moment, Cassandra thought he'd embrace her. Instead, he blinked quickly, pushed her slightly away and rubbed her upper arms, shaking his head, his voice heavy. "Cass ... You won't be allowed to go anywhere. If your assignment is here on the base, in the hospital, then you'll follow orders. This is not Romania."
She opened her mouth to speak, but David raised a hand. "There's no point in arguing, trust me." He limped around the first bed, put gloves and a mask on and added, "Come, let's finish the rounds."
Next blog stops.


A World Apart by Camelia Miron Skiba
"In a war that's not hers, she loses everything.

Everything she loses is because of him.

Forgiveness is not an option.




Lieutenant Cassandra Toma, trauma surgeon in the Romanian National Army starts her deployment at a joint-unit air base on a wrong foot, clashing on her first day with her new commander, Major David Hunt. Her rebellious nature and sassiness rival her excellent performance in the operating room—the only reason why she's not reprimanded, or maybe not the only reason.




They meet. They clash. A forbidden passion consumes them with the intensity of an erupting volcano, leaving her heartbroken and him with tarnished honor and pride as an officer. The only way out for David is disappearing into the dangerous warzone in Iraq. Their flame was supposed to be over when destiny brings them back under the same roof, this time with a common goal—to find Cassandra's brother, Maj. Robert Toma, kidnapped by insurgents while on patrol.




To rescue Robert, Cassandra and David put aside their resentments, uniting forces against a common enemy. Trying to forget the painful past, Cassandra opens up to give David—and their love—another chance. What she doesn't realize is that her anguish is the result of David's impetuous action—one reckless choice he made for which she may never forgive him.




His mistake, his secret, could cost them both the love they've finally found."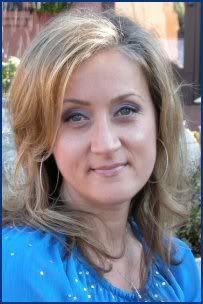 I WRITE. I LOVE. I DREAM. I WRITE.
I'm Chris' wife, Patrick's mom and Bella's owner. During the day, I'm the assistant to the Director at SESE at Arizona State University, and romance's slave at night.
I moved to the U.S eight years ago, following my heart and the man who stole it. I love comedies, historical dramas and happily-ever-after stories. English is not my native, not my second, but my third language.
Some fun facts about me:
Each year I participate in one big event that requires me to physically train. My biggest sportive accomplishment was the 3-day 60-mile Susan G. Komen Walk.
Annually I pick a color I decree my favorite (this year it's salmon).
I refused to text until 2010, always preferring to hear voices rather than sending emotionless messages. Politic bores me to death and I have no tolerance for arrogance.
"A World Apart" is my second book. My debut novel "Hidden Heart" came out March 2011.
Email:
cami.skiba@gmail.com
Blog:
http://cameliamironskiba.wordpress.com/
Facebook:
http://www.facebook.com/Camelia.M.Skiba
Goodreads:
http://www.goodreads.com/author/show/4864495.Camelia_Miron_Skiba

Camelia has offered to giveaway and eBook copy of A World Apart!
All you have to do to enter for a chance to win is fill out the Rafflecopter form below.
**Just sign in via Facebook or with your name and email, and click DO IT! --Green Button-- read the instructions/directions of the entry well please, complete it and then click 'Enter'.
a Rafflecopter giveaway